About our Products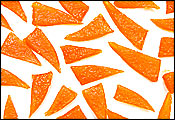 We work directly with small family farms, seeking out heirloom and forgotten fruits, hoping to revive the tastes of our collective pasts. These fruits, once commonly grown and available, are now rare and almost extinct. Supporting the farmers who grow them helps to ensure that these varieties of fruit will not be lost.
Following traditional methods of preserving, organically grown fruit is hand-cut and stove-top cooked in small batches with the addition of a minimal amount of organic sugar and no commercial pectin.
Endeavoring to utilize the entire fruit, we use the seeds and membranes of citrus to make our own pectin for marmalades, and candy the peel. Inspired by traditional pairings, we infuse the flowers and herbs we grow into the fruit to create complex flavors.
Each pot yields an average of 8-10 jars and is hand poured. Letterpress labels are applied by hand. It is our belief that this close attention to detail and extremely small scale yields the best quality possible in a preserved fruit.
All of our fruit is grown within the U.S., the majority in Northern California. It is grown organically by sustainable agricultural methods without the use of synthetic chemicals, allowing the fullest flavors in the fruit to develop. Capturing these tastes is the craft of our business.